The Necessity of Collaboration in The Workplace
12 min read • 28th February, 2022

Muhammed Mursi
Jr. Brand Executive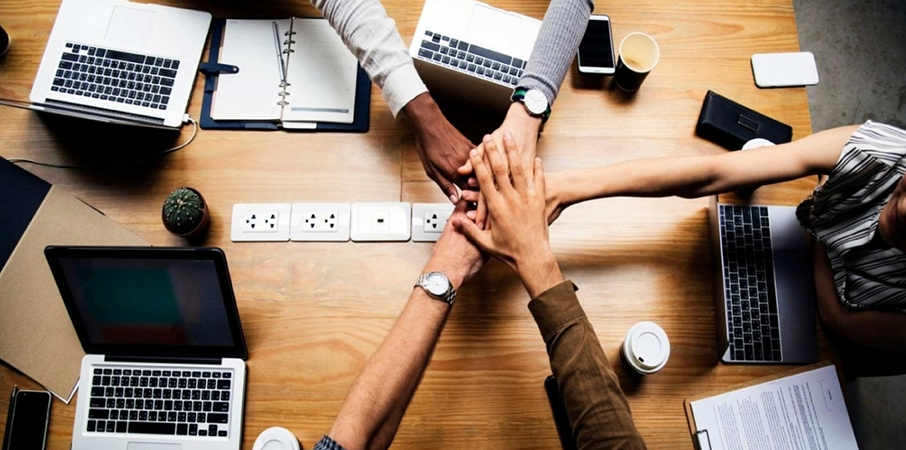 In the workplace, collaboration entails a group of people exchanging ideas and talents in order to achieve a common goal. When people from various backgrounds, perspectives, and abilities collaborate, innovative solutions can be easily developed. This allows organisations to solve problems more quickly and efficiently.
It's never easy for a company to achieve successful collaboration. Perhaps your business's departments are isolated, or perhaps too many teammates work remotely, or perhaps most meetings are ineffective and waste of time for many employees.
Why collaboration is valuable?
Team members bring a variety of expertise, skills, and talents to the table. By collaborating, the team is able to employ the experience, knowledge, and skills of all its members to achieve a common goal.
There is more power and impact when it comes to a group of people than as an individual. In addition, collaboration accelerates project delivery by allowing employees to combine their strengths and expertise. Teamwork also encourages healthy relationships among employees, collaborating makes employees more responsible, which in turn drives their motivation higher, especially when working virtually as part of a team.
Workplace Collaboration
By working together, employees can also share their ideas while learning more about how their co-workers think, work, and function, so that employees are able to learn from one another and optimise their abilities. Because of this, teamwork is beneficial to both the organisation and its employees.
Benefits of collaborative workforce
People are challenged to think, communicate, and obtain clarity about their abilities when they interact. Competence and experience are added to the mix by a diverse variety of skills and knowledge. Because two heads are better than one, and team members cover each other's blanks, teamwork increases performance.
Drive growth and innovation
Most businesses have always relied on innovation to prosper, and cooperation has always been an important part of that process. The constant flow of information maintains momentum and improves the ideation cycle, resulting in new and innovative ideas. Collaboration acts as a multiplier for new ideas and as a check and balance for the ideas that can't be implemented or require further thought.
Enhances skills sharing and learning
The opportunity to learn from each other increases significantly when people are working together. By incorporating feedback and perspectives from various teams and team members, you effectively connect cross-functional teams. Knowledge and experience are transferred among employees because no two individuals have the same idea. This enables employees to improve their skills faster.
Collaboration gives team members a sense of purpose and adds value to their work. As a result, they are satisfied with their work. Employee happiness helps to a great workplace culture. Furthermore, employees who look forward to going to work every day are more responsible and less likely to leave the organisation.
Business success relies on collaboration
Collaboration in the workplace is becoming increasingly important as competition in the market increases. Innovation is sparked by collaboration, productivity is improved, and employee satisfaction is increased. It's time to cultivate a collaborative spirit among your workers if you want to see your business prosper. Collaboration can provide your company with a competitive edge with the right mindset and practices. It is evident from the results above that collaboration in the workplace is an essential component of the overall business productivity.
---
About the Author

Muhammed Mursi
Jr. Brand Executive
Muhammed Mursi is a talented writer and digital marketer who enjoys creating blogs, articles, and marketing pieces with the reader in mind, ensuring that written words and phrases connect with them. In addition to learning new things, he keeps his interests and enthusiasm alive with music, travel, and movies.
Comment
Leave a Comment and interact with the readers of this blog for future references